Powder coat is truly amazing.  It is extremely durable, lasting years and years, it's weatherproof and it is much more environmentally friendly compared to liquid paints.  You can get anything metal powder coated, with thousands of dazzling colours and finishes to choose from.  The possibilities are endless considering so much of our products use metal as a raw material.  Think of the contents in your home and garage.  Aside from the common choices such as gloss, semi-gloss and matte, companies such as Prismatic Powders who carry some of the largest selections in the world offer clear coats embedded with pearl, and sparkling flakes amongst others.  
This means as a powder coat applicator we can offer our customers a vast selection of colours with even more options for finishes.  Take a look below for some popular finishes our shop offers. 
Matte – characterized by a shine-free finish, oftentimes with a subtle textured surface. Below you can see what happens when we add a matte clear coat over a standard powder colour.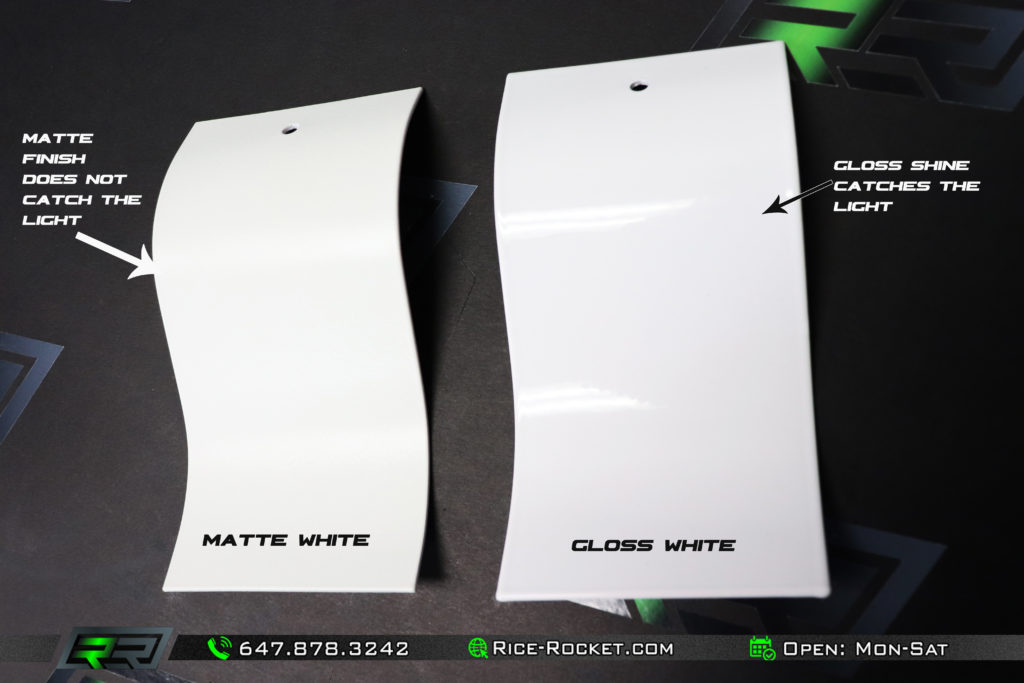 Satin Pearl  – characterized by a purple/blue sheen that can be seen when it catches the light.  Adding a pearl top coat can add that extra something extra to a colour without changing it completely. 
Gloss with Coloured Sparkles– characterized by an addition of a coloured flake over a base colour.  A standard flake is silver however Prismatic Powders offers an array of clearcoats that can add a gold, purple, blue, or combination to a base coat.  This adds that extra sparkle to any of your projects.   See below for what top coats by Prismatic Powders that can be added on top of Gloss Black to achieve other effects.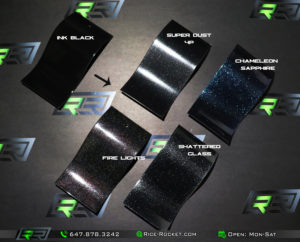 Gloss– most popular by consumer demand, a gloss clear coat can add brilliance & lustre to any base colour.  Especially in a gloss black, the substrate can appear wet looking due to its high shine. 
Semi-Gloss– characterized by a mid-lustre look, it's the second most popular by consumer demand.  Semi-gloss offers a brilliance without being overbearing. 
Wrinkle – characterized by a matte finish & texture that imitates wrinkles, this is commonly found on Honda VTEC valve covers.  Although it is not a top coat that can be added, it comes in a good variety of choices that is sure to please the wrinkle lover.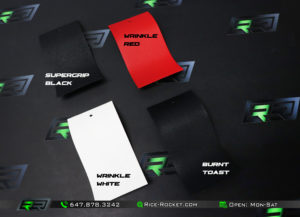 Vein – characterized by a high shine vein-like look, often a colour alongside black.  It's smooth bumpy texture is popular in home & architectural furnishings but can easily be used for your custom projects.  This is not a top coat however it comes in a large variety of colours that is sure to please.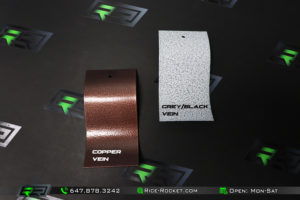 Supergrip – characterized by an extremely matte and grainy finish, this powder is used to coat stairways or anywhere grip is required.  Much longer lasting than the sticky-backed tape version, this powder only comes in black and despite its intended use, can be appropriated for your custom project needs.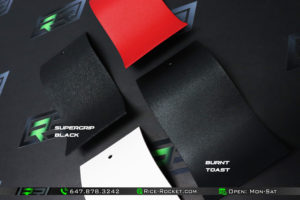 Candy/Transparent – characterized by a low opacity colour over a polished or chrome substrate.  Although it is not a "finish" per say, transparent (aka candy) is included in this list because of its unique aesthetic. Candy/transparent colours are applied over a bright substrate, generally chrome or polished so that the substrate can shine through, creating a deep alluring effect that looks exactly like candy.  It comes in a vast array of colours with satin & gloss finishes.