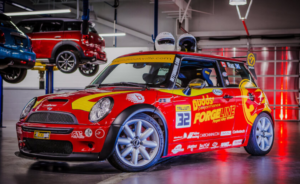 2006 Mini Cooper S 1.6L L4
It's been 10 years since Ian Rae owner of Motorwerks Magazine had started his publication.  Since then he's amassed readers from all over the globe, North America being the bulk of it but we can't help but appreciate that one reader from Mongolia.  Ian approached us recently with the opportunity to help with the Chili Red Mini Cooper RSR 1800 build and we were thrilled.  Colin is more of a truck guy but me, I love Minis.  When I imagine myself going downtown, dressed to impress, I imagine myself in a Cooper.  But this project is different.  It evokes a different beast in me, the kind that wakes up when I need to pass a slow moving truck.  The kind of power I want to feel akin to that of my motorcycle; flick of a wrist to rocket forward with ease.  This is where Cooper RSR hits the mark.  With a 1600cc supercharged motor, it is what they call an R53 and it is the first of the three generations of MINI that have been produced since it was bought by BMW.  It competed in the BMW CCA Trillium Chapter autocross series where it won its class and finished in the top ten that year.
It was in 2019 that Ian decided to transform the MINI into a full-blown racecar and it was featured in his magazine Motorwerks as a project car where upgrades and modifications were explained to readers so they could try it for themselves.  The project has gained support from the following companies:
RJ ProFab – custom built roll cage
Klaus Composites – custom carbon fibrer rear wing and carbon fiber roof
Nine Lives Racing – custom front splitter
Revolution Motor Works 1800cc race motor (to run on E85)
Link Engine Management Systems – plug & play ECU
Momentum Motorsport – custom tuned Limited Slip Differential
MW Garage – custom fabrication of removable dash, rear floor & wiring harness
TMR Customs – Tyrap brackets & dimple dies
Powerbrake – Big Brake Kit & front brake pads
G-LOC – rear brake pads
TC Kline – wheel stud conversion
ET18 Forgeline GS1R Wheels (8.5 x 17) in Wet White & Transparent Red
KW Suspensions – race coilovers
So-Cal Sportscar – splined anti-roll bar & upper/lower rear suspension arms
Sabelt
Leaf Racewear – racesuit, Nomex boots & gloves, and race harnesses
MOMO Daytona – halo style passenger seat
Planted Technology – aluminum seat side mounts
Racepak – G2X Pro datalogger, IQ3 display dash, and Smartwire Power Distribution Module
CAE – precision shifter
Antigravity – lightweight battery
Cartek Motorsport – Electronics Battery Isolater, Electronics FIA Rain Light, and infrared steering wheel buttons
And of course, powder coating from Rice Rocket.  This project is a first of its kind for us, to be part of a build that encompasses racing parts from other local businesses but it would be the first time ever that we would be included in a publication.  Ever since he came by our shop in Toronto to meet us, we have found the partnership valuable in more ways than one.  We  learned so much about the racing community here in the Greater Toronto area.  The magazine uniquely describes the comings-and-goings of Canadian racing.  And once we got our foot in the door, Mini Cooper lovers started popping up on our doorstep from unseen places.  To share the love of a car or bike with another is like being part of a brotherhood.  It becomes a bond.  I remember earlier days when I striked up a conversation with someone on the Toronto subway only to find out they also rode a Honda.  It's a small world sometimes.  It really is.
Check out the magazine, we promise it's a good read.
To see Motorwerks Magazines free online issues visit: https://issuu.com/motorwerksmagazine
To follow the build visit: www.facebook.com/CooperRSR/