At Rice Rocket, we try to make your life as easy as possible, so we offer services that are convenient for you.  Unbeknownst to many, the process of powder coating calipers is actually lengthy and technical.  The calipers must be removed from the vehicle and disassembled even before we get to the process of refinishing them.  That is why most companies who offer this service use sprayed paints, promising the customer the calipers do not need to be removed from the vehicle. Even though this is a fast solution to the problem, oftentimes they are charging premium prices for something you can do yourself!  Sprayed paints will last you a month before it peels and flakes off, looking worse than before.  Most other powder coat companies who do the coating properly will only fulfill the refinishing aspect, while leaving the other parts of the process up to the customer to figure out.  Our shop has found a way to make this process more convenient for the everyday shopper.
When you arrive at our shop in Etobicoke (Toronto), the first thing we do is choose your custom colour.  We order from reputable powder manufacturers such as Prismatic Powders ensuring your product will be durable enough for the open road.  We carry approximately 100 colours in stock, making it very likely we will have something you like.  And if you are unsatisfied, we will order the colour you want.  Many of our clients are car enthusiasts who have a great handle on disassembling their vehicle.  If you bring your calipers off the vehicle, it will help us reduce the cost of the project for you.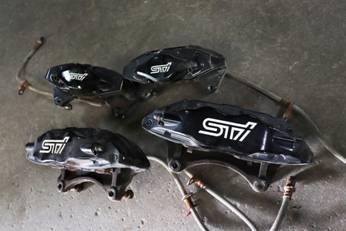 After we determine your needs, we would go ahead and take the calipers apart, removing seals, pistons, O-rings, brake pad clips, the whole nine yards.  Our shop is equipped with a sandblaster where we remove the existing paintwork down to the raw metal.  The caliper pieces are then washed and pressured air is forced into the pathways ensuring no sand or debris is inside the caliper.  This step is important to ensure your final calipers perform properly.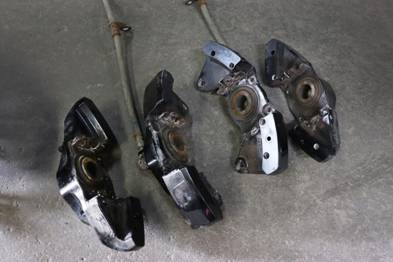 Fitment is crucial to performance parts of a vehicle.  Our technicians mask all the surfaces so the pieces fit together as they once did.  Powder coat physically adds a layer to the part approximately 1/32"-1/8" depending on how many layers are needed.  Therefore masking is an important step.  All of the threads are plugged using silicone rubber cones, so that they are still accessible to bolts.
All of our coatings are done in house with a gas-powered batch oven and professional powder spray gun.  Our gas oven distributes the heat evenly, confidently ensuring your coating is even and delivering a great product.
Once the caliper pieces have cooled, we remove the special heat-resistant masking tape and plugs and embark on reassembling the pieces.  Some of our clients like to bring us new seals bought OEM or aftermarket but most of the time we are able to reuse the parts.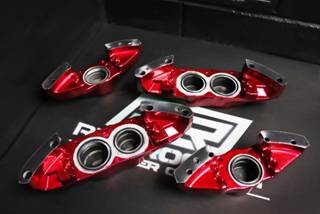 The calipers are now ready for final touches.  We can remake stickers that were destroyed in the process such as Brembo and add them to your calipers.  Now they are ready to be reinstalled on the car! Please beware of the service you are buying.  If a spray painted caliper is what you are after, know that you shouldn't be paying premium prices for this service (more than $100).
If you wish to remove brakes/calipers off a vehicle please seek a licensed mechanic.  As per the College of Trades standards in Canada, only a licensed car mechanic with a 310S or a 310G for motorcycles may remove brakes from a vehicle.